Terri Oestmann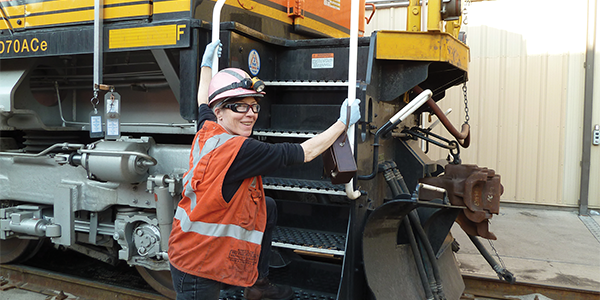 Terri Oestmann has always been a bit of a pioneer. It's that pioneering spirit that led her to Dunwoody and the railroads and providing that same opportunity for others.
Oestmann enrolled at NEI, which later merged with Dunwoody, to study electronics with an emphasis in computers. She later worked for BNSF Railway's telecommunications division and subsequently, its diesel shop. Wanting to get out of the shop, do more creative work and further her career, Oestmann enrolled in Dunwoody's Bachelor's Degree in Industrial Engineering Technology. She was one of the first to graduate from that program in 2013. Her degree landed her a new position as a Rapid Responder with the Railway, becoming part of a Railway team that chased down broken trains and fixed them in the field, if possible. It was demanding and required ingenuity and creativity. She remained in that position until she retired. Oestmann now lives in the Ozarks with her husband.
She has always believed in a frugal lifestyle and wanted to save enough to leave a legacy; one that will benefit future Dunwoody students. "I wanted to provide opportunities for others to have a way up in life," she said. "Dunwoody was a wonderful environment and a wonderful experience for me. I want other people to have the chance to use their talents in the best way possible. We all do better, when we all do better."