Larry Enerson, '73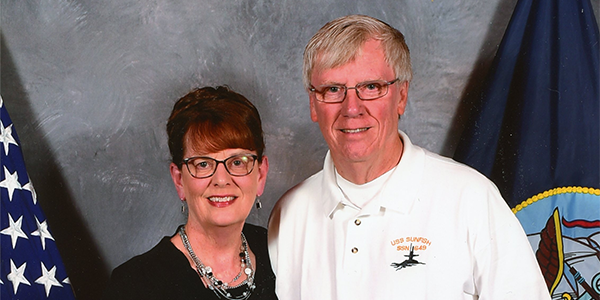 As he graduated from high school, Larry Enerson, '73 Machine Tool Technology, had plans to attend the University of Minnesota. His brother was enrolled there, too, and was studying electrical engineering. Larry soon discovered he wanted an education with more hands-on learning.
He chose Dunwoody, as it suited his talents, interests and future plans well. He enrolled in the machine tool technology program. In 1966, after nine months at Dunwoody, Larry was drafted into the Navy. He served for six years in its nuclear power program, becoming a nuclear reactor operator on a submarine. Larry returned to Dunwoody in 1972 after completing his service.
During the completion of his studies at Dunwoody, Larry met his future wife, Jan, who is a St. Catherine University graduate. During his subsequent career, Larry worked at Whirlpool until the plant closed in 1984, after which he worked at Univac in its defense division, building on his military experience. Larry later worked for Hutchinson Technology's new plant opening in Plymouth, where he enjoyed the last 12 years of his career working in its modern facility before his retirement.
Larry and Jan have included Dunwoody in their estate planning and are members of the College's Legacy Makers Society. "I really valued the education that I received at Dunwoody and want to help support the College. Dunwoody was such a great fit for me. It is a really good college and well run. I want to see it keep going. Both of our careers have focused on building companies and divisions within companies and keeping them sustainable and growing. Schools like Dunwoody, that are hands-on applied learning, keep things going and keep the world moving forward, so it seemed like a good fit to support the College as part of our legacy planning."
Larry's advice for students is to work hard and appreciate this opportunity to learn and go to college. Says Larry, "no one can take away your education. It will always be there for you. Your education belongs to you no matter where life takes you."